Aline
's photo - April 11

Aline
's photo - April 14
(one week old)

Shoebutton
's photo - April 20
(oldest is two weeks old)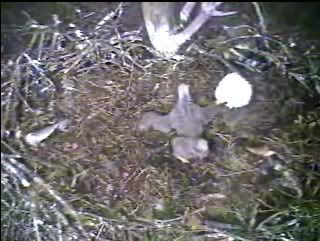 Sherri
's photo - April 26

SharonFeeney
's photo - May 5
(four weeks old)
30 - 32 days (about 4-1/2 weeks)
Sherri
's photo - May 8
SharonFeeney
's photo - May 9

SharonFeeney
's photo - May 11
(5 weeks old)
39 - 41 days
SharonFeeney
's photo - May 17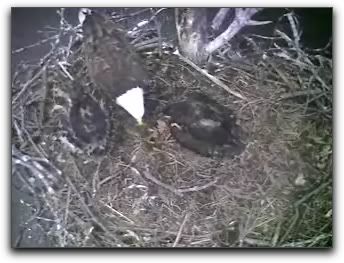 SharonFeeney
's photo - May 20
(6 weeks old)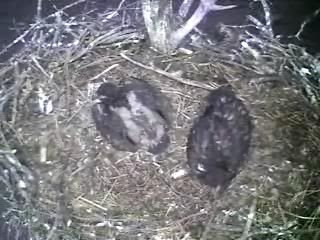 50 - 52 days (a little over 7 weeks)
Aline
's photo - May 28
(see how much more of the nest they take up!)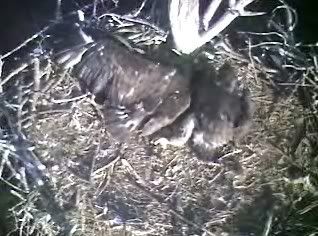 Sherri
's photo - May 30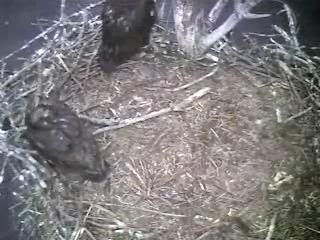 Aline
's photo - June 2
(8 weeks old)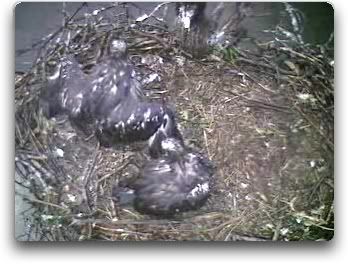 SharonFeeney
's photo - June 5
(drying out right after a wind/rain/hail storm)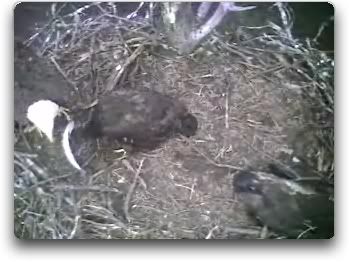 SharonFeeney
's photo - June 9
(9 weeks old)
(they are feeding themselves occasionally,
but still prefer to be fed)
SharonFeeney
's photo - June 11
SharonFeeney
's photo - June 12
the whole family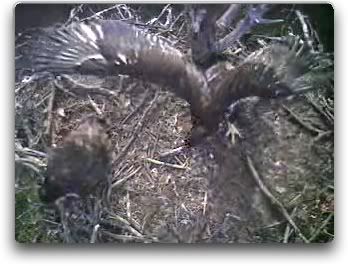 SharonFeeney
's photo - June 14
Aline
's photo - June 17
(10 weeks old)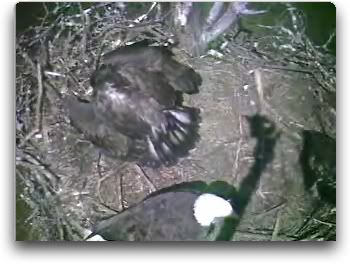 SharonFeeney's photo - June 18
(mantling)
SharonFeeney's report on a visit to the nest via kayak: "June 18, 6:30 to 8:15 pm, I paddled around the eagles where both were standing on the edge of the nest. I'd guess it was around 7pm when mom dove down from her perch, but I didn't see where she landed as she went around the other side of the island out of my view. Seconds later, she flew up to the nest with food. Those chicks were squealing from the time I saw her take off like a bullet from her perch. It looked like just one of them got the food - and it appeared to be eating it all by itself. When they settled down afterward, they did a lot of wing stretching, but I didn't see any hopping around or branching. They both have amazingly different voices, and when one of them was vocalizing in response to the food, it sounded like it had two totally different pitches in its voice. I wished I had a tape recorder... "

SharonFeeney's photo - June 20
Link to the Rest of Sharon's Pictures of her June 20 trip to the nest

SharonFeeney
's photo - June 23
(11 weeks old)

SharonFeeney
's photo - June 23
(11 weeks old)

SharonFeeney
's photo - June 25
"look where one of the 'lets managed to get itself"
(it was back in the nest when Sharon checked on the 26th)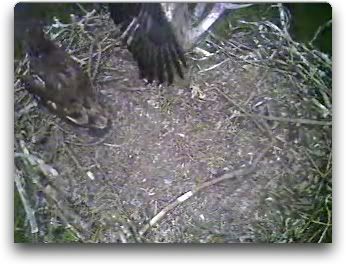 SharonFeeney's photo - June 28
link to SharonFeeney's video of younger (lighter-colored) eaglet fledging June 28, about noon

SharonFeeney's photo - June 28
"After paddling a couple of miles away from the nest, I returned on the opposite side of the island from where I last saw the fledgling. As I turned the corner, there it was - and it was so close that I was about to paddle right by it. I never would have purposefully been this close and I hope I didn't spook it nearly as much as it surprised me. I had last seen it on the opposite side of the island from this."
(The fledged eaglet returned to the nest that evening.)
link to the rest of Sharon's photos of the fledgling
Aline
's photo - June 30
(12 weeks old)
(I think it's the older darker-colored one flapping, while the younger considers making another flight.)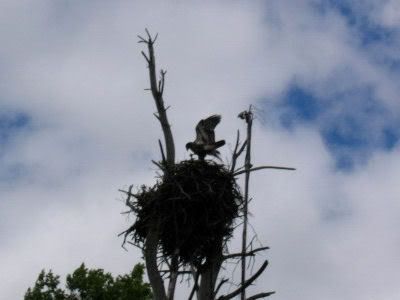 SharonFeeney
's photo - July 1
link to
larger original and additional photos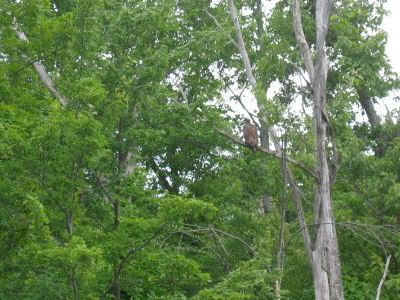 SharonFeeney
's photo - July 1
link to
larger original and additional photos

Aline's photo - July 7
(13 weeks old)
The darker, older eaglet is doing a lot of branching, but Sharon hasn't ever seen both of them away from the nest at the same time, so there's no evidence that the older eaglet has fledged.

SharonFeeney
's photo - July 8

SharonFeeney's photo - July 10
link to SharonFeeney's July 9 video of "Juvie Flying"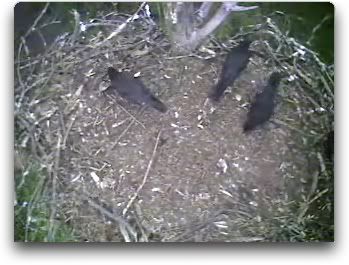 SharonFeeney's photo - July 11
These are not Choco and Vanilla - and it seems unlikely
they'd be here unless Choco had fledged....
SharonFeeney reported: "July 11, 11:55 am binocular sighting - One adult eagle on Mom's branch with a juvi perched next to her. One fledgling on the ground under mom's branch; a very safe spot to be. I was there for only about five minutes, and the juvi at water's edge under mom appeared to be doing well. It was strutting around in about a 15 or 20 ft wide area and flapped its wings a few times. Hopefully, I can get at least another binocular view in later today. Choco and Vanilla have done well thanks to Mom and Dad Barton!"
SharonFeeney reported, "July 12, 6:55 - 7:10 pm binocular update - I arrived to greet a lot of thunder, dark skies, and a little bit of rain. The first focus on the nest showed two fledglings; one was in the nest flapping a lot and the other was about halfway up the nest "tree" on a short branch. Might you be thinking that Choco was stuck part way up the "tree"? A huge gust of wind came and the 'let halfway up the tree left and soared up to the skies. I wish you could have seen it! Vanilla (assuming here now) went up and circled around the nest and over the water going higher each time. It was totally spectacular! Then, she looked like she was going to head for the nest but went past that toward Dad's dead birch tree. I thought she was going to land there, but she went a bit further and higher than that and landed beautifully on the only other exposed branch in that area. I'd love to know how much of that landing was intentional; it sure looked great from my view.
The 'let in the nest (now assuming Choco) was there the whole time doing a lot of wing flapping and jumping. I could also see something white over the edge of the nest - maybe there's still fish there!
In the distance, I could hear a parent but I didn't spot it.
It's just the greatest knowing that this family did this well especially given the snow this spring and the condition of this tree."

TakeCare's photo - July 14
(14 weeks old)
link to SharonFeeney's video "Branch to Branch" (40 sec)
possibly the newly fledged eaglet?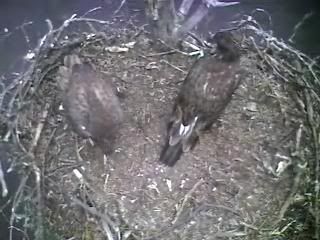 Aline's photo - July 15
SharonFeeney
reported,
"July 17, I paddled tonight at the Cove between 7:15 and 8:30. There was a parent perched on a tree next to the nest, and there was one 'let in the nest. I went far from the nest, and turned a corner and I'm afraid I might have spooked one of the 'lets who flew toward the nest out of site. About 20 minutes later, I had the nest in view and there was still one 'let and one parent there. Later, I heard where the other 'let was calling from (about a half mile or so on the other side of the nest). The parent near the nest left quietly when I wasn't looking. Minutes later, a parent arrived with a live fish in its talon. I was too awestruck to even think about the camera. The parent was flying up from the water when I first saw it, so I must have just missed the catch.
The 'let on the nest was very happy, and then the 'let away from the nest started screeching. By the time I had the wherewithall to pick up the camera, this is what I saw. I think something went wrong with the audio as it was much louder, so you might want to turn up your speakers."
link to SharonFeeney's video
"July 17 "
(43 sec)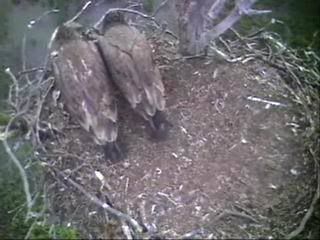 TakeCare
's photo - July 21
(15 weeks old)
SharonFeeney reported July 25: "I went for a two hour paddle with a friend between 2:45 and 4:45. There was one fledgling on the island which flew to the nest when we were within eyesight of it. It was still there when we left. One parent spent about three or four minutes flying around the cove at a lower altitude and for longer than I've ever seen it. Breathtaking.
After leaving the cove and paddling about 1.5 miles, we heard a lot of commotion. Then, what must have been this year's fledgling flew out from the trees and kept circling quickly upward. About 20 seconds later, about 10 or 15 crows flew up and after it, but they never went high enough. That eagle flew overhead and around for about 3 or 4 minutes. Breathtaking.
When I was putting the boat on the car, I could hear at least three eagles at the nest and it sounded like there was a food delivery there. There were no fisher people there today, nor were there motorboats anywhere near the nest area. Dad is a great fisherman (and I'll bet mom is too)."


TakeCare's photo - July 25
TakeCare: "...after reading your post I 'tuned in' and there was one, minding its own business - very shortly to be joined by the other. It did look more playful than confrontational. They are getting personalities - I still can't tell them apart - but their interaction is showing a pattern of friendly rivalry!"
Later that evening, SharonFeeney: "Wow did you see that? One of the parents brought food. Both lets showed up in a heartbeat and the first let to take the food flew off of the nest with it! The other didn't fly after it, but I'm impressed!"

SharonFeeney
's photo - July 26
"Both 'lets branching (one at nest edge, and one on nearby snag)."
(almost 16 weeks old)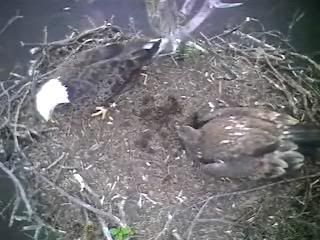 Aline's photo - July 30
link to the rest of Aline's photos in the series
SharonFeeney: "OH am I ever glad you caught that Aline!
I was at the Cove from 7 - 8:30 tonight. I saw both parents and only one 'let (who was, again, vocal almost constantly for more than an hour). I happened to be taping the chattering because the crows became active when Dad came in with dinner! He brought it in and then perched in a nearby tree while mom ate whatever the 'let was previously working on when Dad brought the food. It looked like the 'let stole mom's food from her after it ate whatever dad brought."
Video: "The usual dark, bad camera, far away view"

"After this video, I wish I could have filmed what I saw from mom, but it happened too quickly and I didn't dare blink. She left the nest with the food in her talon and made a small circle around the nest. As she circled, she took the food from her talon and put it in her beak. Then, she took it out of her beak with the other talon as she turned the food around in the other direction. All I can say about the food was that it looked dark and supple but I don't know if it was alive at all (why else would she perform such a maneuver - see below!).
I left my computer on when I left home, and I just found the video of that time that I saw at the nest. The cam view is awesome! I'm not positive, but I think it was just before the pics that Aline got (and my computer shut off by then). Here it is and it turns out that there was a few times when mom and the 'let stole food from each other! I do like this clip!"
Video:
Great eagle "fix" 7 min (I just had to)

"I have no idea how that 'let can peep and eat at the same time and for so long."

SharonFeeney
's photo - July 30
"1:17 Dad brings food and both 'lets are here" -
Video
(2 min)
All images are the property of the cam from which they were taken and/or the person credited.
Thank you for letting me use the images for this compilation.