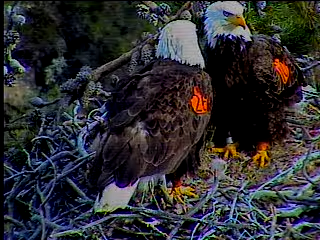 photo by
Naturegal
- April 13
BIRDER
's photo - April 13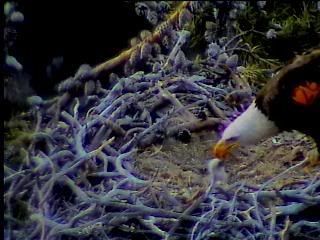 Aline
's photo - April 13

Aline's photo - April 15
link to su's April 16 video "Morning Feeding" (5:20)

Aline's photo - April 20
(one week old)
link to su's video "8:50 Feeding" (1:36)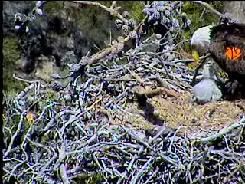 photo by
EagleLoverFL
- April 24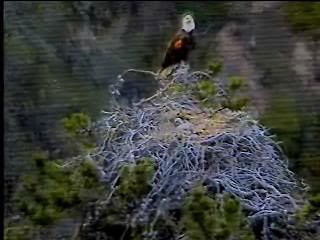 Aline's photo - April 29
Aline
's photo - May 1

photo by EagleDuo - May 4
(three weeks old)
link to su's video "Fluff Coat" (2:20)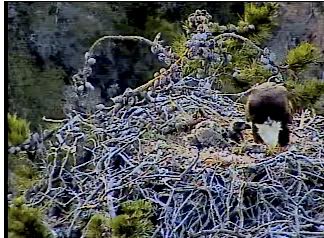 photo by EagleLoverFL - May 12
link to EagleDuo's video "Lotsa Fluff & a Fish" (3:11)

photo by EagleDuo - May 18
(five weeks old)
link to video by cdn-cdn "Chick Feeding Itself"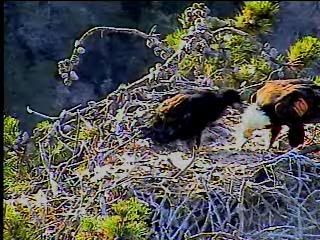 Aline
's photo - June 2

photo by Cumbrian - June 3
"Eaglet defends the nest from a juvenile"
link to EagleDuo's video "This Is My Nest - Go Away!" (2:05)

photo by EagleDuo - June 8
(eight weeks old)
link to glo77's video "Banding Day"
link to JudyB's slideshow "Banding at Santa Cruz"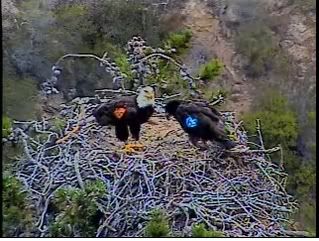 Lori
's photo - June 10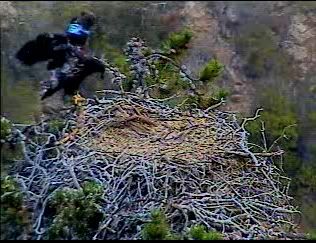 Lori's photo - June 14
A-63 is spending a lot of time branching - and when one of the
parents tried to sit on "his" branch A-63 chased him off!
And check out this sequence by EagleLoverFL on the IWS forum -
A-63 Grabs Dinner A-63 may be an only child
but his parents seem to be teaching him well!
Lori
's photo - June 18
Lori
's photo - June 22
"On the big eagle perch"
(ten weeks old)

Aline's photo - June 24
"Exploring"
June 24 - the IWS Forum picked a name for A-63 - Limuw , pronounced Lee-Moo, which is the Chumash name for Santa Cruz Island; blood tests from banding day confirm he is a male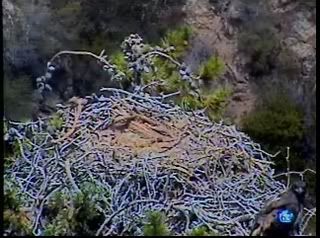 Lori's photo - June 24
Limuw has been branching in a variety of spots, and grabbing food away from his parents (and even went as far as to push poor old Dad out of the nest a couple of times). Please see the Santa Cruz thread on the Maine forum for a lot more pictures of his antics!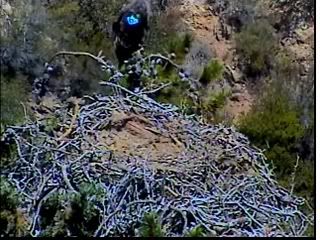 Lori
's photo - June 24
Up on the big perch - which is farther from the nest than it appears

Lori's photo - June 27
concern is expressed on all forums that there may have been a decrease in feedings over the last day or two; it's possible food is arriving before the cam comes on in the morning - but not certain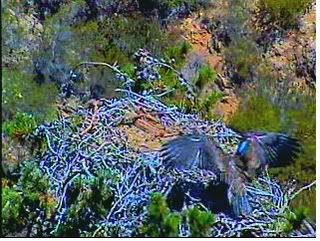 Lori's photo - June 28
Limuw fledged June 28 (10 weeks, 6 days), about 11:10 am, made a brief flight, returned to the nest (picture above), then left at 11:30 to explore his world; he returned to the nest a couple of times, then spent the night elsewhere. Both parents brought food to the nest the morning of June 29, then left with it - probably to take it to Limuw since he wasn't coming back to the nest to eat. He returned to the nest later on the 29th.
link to carole79's video "Limuw's Second Flight" (2:07)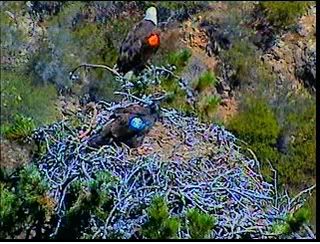 Lori
's photo - June 29
(eleven weeks old)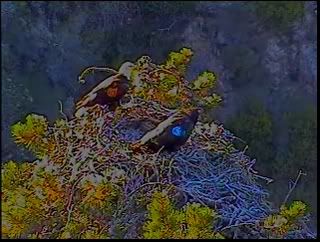 Lori
's photo - July 2
Limuw and Dad

Aline's photo - July 6
(twelve weeks old)
link to video "A-63 Flying by the Nest" by Dave from the IWS Forum (14 sec)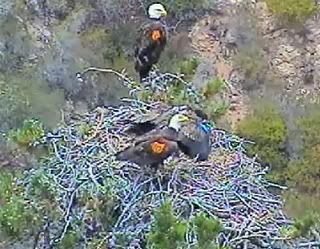 Lori
's photo - July 9
"What a funny afternoon. Mom arrives with prey and then Dad arrives with prey.

Limuw was REALLY in a quandry. Trying to protect 2 prey deliveries and his perch."

Lori's photo - July 13
(thirteen weeks old - three months old!)
Dave from the IWS Crew reported July 12: "As you all know, Limuw's been returning to the nest almost every day since he fledged close to 2 weeks ago, and we've been keeping a close eye on him since his 'early' departure (both direct observation and monitoring his GPS data). Although he's slowly starting to venture farther from the nest, he's been spending the majority of his time within a few hundred yards of home. Both K-10 (Dad) and K-26 (Mom) have continued to supply him with all the food he needs (as you've all been observing on the webcam), so he can spend his leisure time perching and perfecting his flying skills. Kim was out watching him for the majority of the day yesterday, first finding him about a ½ mile east of the nest, although he eventually moved back to the nest canyon, where one of the parents was waiting patiently for his return. Based on all your webcam observations from yesterday, I see that he was back in the nest later in the day."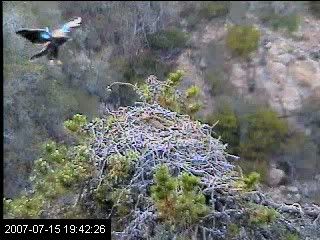 photo by r.e.s. - July 15
link to the rest of the photos in the landing sequence
link to EDblue's video "Limuw's Silent Return" (3:17)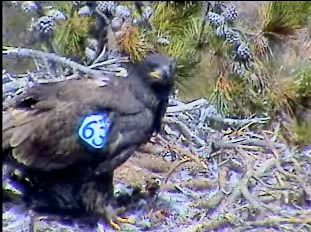 photo by EagleLoverFL - July 16
link to Dr. Sharpe's video "A-63's Visit to the Nest 7/16/07"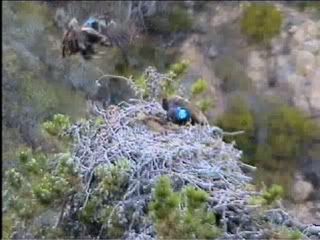 Lori's photo - July 18
Cruz (last year's eaglet) drops by to visit Limuw at the nest
Limuw was not terribly amused - and after assessing the situation chased Cruz off his perch.
link to Patti's video "The Surprise Visit" (4:03)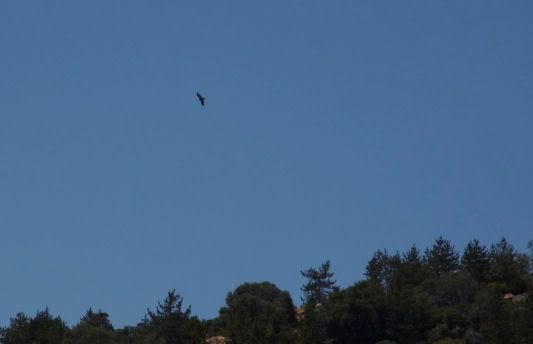 photo by IWS Crew - July 19
"Here is Limuw soaring near the ridge, only about 100m from the nest."
Chris from the IWS Crew reported July 19: "As for Limuw, post-fledging life is very exciting. According to our GPS data, Limuw has twice flown to a harbor about a mile to the west of the nest. With every day that passes, Limuw's wing muscles become stronger, enabling him to explore more of the island. After returning from a day of floating-fish trapping, we stopped by the nest only to see Limuw soaring above the ridge, looking more comfortable than ever in the air. The local western gull population did not seem too excited about yet another eagle in the area. Keep up the good work, Limuw!"

photo by Cumbrian - July 20
(fourteen weeks old)
link to Cumbrian's video "Beautiful!" (1.29)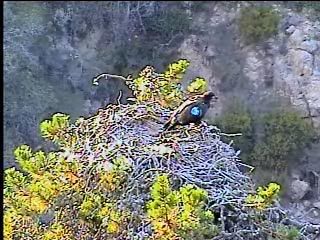 Aline
's photo - July 24
Jessica from the IWS Crew reported August 1: "It's been a quiet week here on the Northern Channel Islands. Limuw has been visiting the nest on a regular basis as has been seen on the webcam. We have tracked Limuw off the nest too. Kim and I were on kayaks on Sunday and spotted him just to the west of Prisoners Harbor. He flew off and landed a few times. His flights looked perfect, his landings, well… there's room for improvement. But it's good to see him exploring away from the nest. Even when he's off the nest he is still close to it based on radio-tracking, GPS data, and observations."
link to Jessica's video of Limuw Flying (20 sec) - taken from kayak
Peter Sharpe reported August 20:
"I'm sorry to announce that A-63 is dead.

He was found in the middle of a road in northern Nevada on Wednesday, August 15th by a gentlemen driving by at 70 mph who saw our bird with wingmarkers, etc. and stopped to check it out because he thought someone was probably tracking it. He got our phone number off the GPS unit and also called the Bird Banding Lab number on the leg band. We can only assume that he was killed by a car while scavenging for food on the highway. The GPS unit had been knocked off and run over, but our good samaritan is going to send it to us anyways. He choose not to pick up the carcass because he didn't want to carry around a dead animal, it would have been illegal and he would have carried it across state lines without the proper permits. By now it has probably been dragged off by scavengers, so we won't attempt to recover it. Sorry to be the bearer of such bad news."
photo by
Jim Spickler
- June 8, 2007
(banding day)
Fly free forever, little one.
All images are the property of the cam from which they were taken and/or the person credited.
Thank you for letting me use the images for this compilation.