Hancock County, Maine

did not nest in 2008
Link
The cam is located in coastal Hancock County, and the eagles have nested at this site for 13 years and raised 20 offspring, making them one of the most successful pairs in Maine. This is a beautiful nest on the coast of Maine. They fledged two eaglets in 2006, but had tragedy last season - the weather was brutal right after the chicks hatched and they lost them.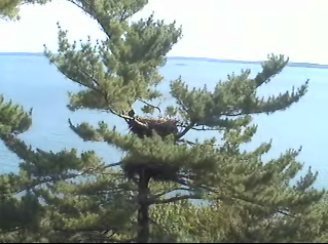 laurad's photo - September 6, 2007
Based on past experience, look for eggs in the first half of March, chicks in mid-April, and fledging in early July.
Summary of 2008 Season:
The parents did some restoration of the nest, and were observed mating.
The female spent the night in the nest on several occasions, but there was no evidence she laid any eggs.
All images are the property of the cam from which they were taken and/or the person credited.
Thank you for letting me use the images for this compilation.