Barton Island is a small island in the Connecticut River, near Barton Cove, in Gill, Massachusetts. A female eagle originally raised and released at the nearby Quabbin Reservoir in 1985 paired with a male bird released in 1986, forming the Barton Island territory in 1989. The original male was subsequently replaced (in 1996?) by a male with leg bands indicating it came from New York State. The nest has produced one or two chicks most years since 1989, although there were three years that the pair was unsuccessful (1997, 1999 and 2001). They fledged two chicks in 2002, one in 2003, two in 2004, one in 2005, two in 2006 and 2007, and one in 2008.
The nest tree below collapsed at the end of the 2008 nesting season (eaglet and parents were fine).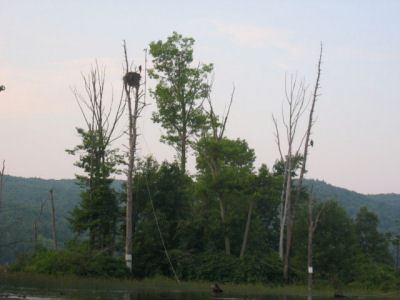 July 26, 2007 - 2 fledglings
© 2007 Sharon Feeney, used with permission, all rights reserved
They are now nesting in a red oak nearby, but they established their nest too late for a camera to be added for the 2009 nesting season.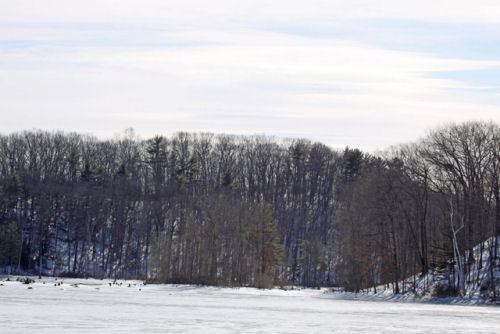 February 14, 2009 - new nest (at far right above the white birch)
© 2009 Sherri Delaney, used with permission, all rights reserved

Based on past experience, look for eggs in early March, chicks in early to mid-April, and fledging in early July.