This nest is located in a tree in a small park in a residential area of Burnaby, BC. It's unusual not only for being is such a populated area, but for being in a tree with leaves that hide the nest (parents generally seem to prefer an unobstructed view from the nest), and for being several miles from the nearest body of water large enough to catch fish. This nest successfully fledged 2 eaglets in 2007, and fledged 2 eaglets in 2008, though one had poor feather development on its wings, making us wonder how that would affect its survival.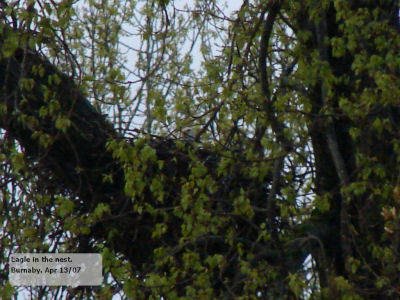 WillPatt's photo - April 13, 2007 - parent in nest
(note that the leaves are just beginning to open - they'll get much bigger!)

Based on past experience, look for eggs in early or mid April, chicks in mid May, and fledging in early to mid August.

Summary of 2009 Season:
The eagles did not use the nest this year


All images are the property of the cam from which they were taken and/or the person credited.
Thank you for letting me use the images for this compilation.