There are two cams - one a closeup of the nest and the other providing a view of the nest and surrounding area. The Hornby Island Bald Eagle Web Cam was initiated by Doug Carrick in 2006. This pair laid two eggs which didn't hatch in 2006, fledged 2 eaglets named Thunder and Lightning in 2007, and did not nest in 2008.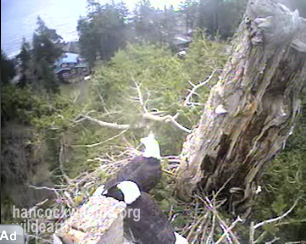 JudyB's photo - February 12, 2009
Based on past experience, look for eggs in late March, chicks in late April to early May, and fledging in late July.
Summary of 2009 Season:
adults return: October 6

cams on: February 10

eggs laid: March 22, 6:51 am; maybe March 25, 8:23 pm (seen Mar 26)

hatched: April 27, 7:49 am (36 days); April 30, 1:40 pm (36 days)

named: Hope and Echo (named by Doug Carrick)

sad news : May 11, the younger eaglet became stuck to the female's feathers and after several hours fell when the female flew from the nest; it's not clear if it died from the fall or if it suffocated or received some other fatal injury while the female tried to shake it loose