The cam is located in central Maine, and according to BioDiversity Research Institute (BRI) the nest has been occupied every year since 2001 (and the territory has been used at least on and off for the last 30 or more years). This is the first year there's been a cam on the nest.
There are two cams, one looking at the nest from the side, and the other over the nest looking in. Both have night vision and constant 15-second refresh views, and one can be streaming with sound. They initially have the wide view streaming, and plan to switch to the overhead view when the eagles are nesting. The cam uses satellite internet, so the connection may be slow at times..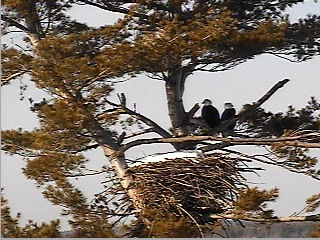 JudyB's photo - January 30, 2009
Based on other nests in the general area, look for eggs in the last half of March, chicks towards the end of April, and fledging in late July.