The parents were both hatched in the San Francisco Zoo (male K10 in 2001 and female K26 in 2002) and then fostered into nests on Catalina Island (K10 in the Twin Rocks Nest and K26 in the West End Nest). K26 laid two eggs in 2006 (one hatched, becoming the female A49 "Cruz," the first eagle chick to hatch in the wild on the Channel Islands since 1949; on Santa Roas as of February 2009); two eggs in 2007 (one hatched, becoming male A63 "Limuw," who died about 7 weeks after fledging while scavenging roadkill in Nevada), and two eggs in 2008 (both hatched, becoming A65 "Skye" and A64 "Spirit" - both male; both were knocked from their nest by a juvenile eagle when they were about 6-1/2 weeks old, taken to the mainland for rehab and released from a hacking tower; Skye drowned after becoming entangled in a kelp bed; Spirit was on Santa Rosa as of February 2009). This nest has a streaming camera with sound which is generally on during daylight hours, as it relies on solar power.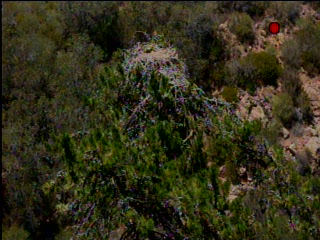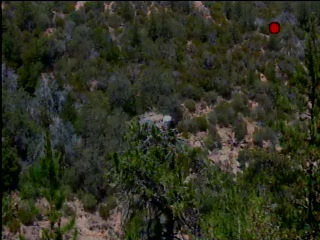 JudyB's photos - June 8, 2007 - banding day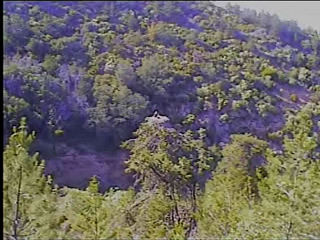 LakeMaMa's photo - April 23, 2008
Based on past experience, look for eggs in the first half of March, chicks in mid-April, and fledging in late June or early July.