Liberty and Justice, a pair of non-releasable Bald Eagles - female Liberty can only see out of one eye so lacks the depth perception needed to hunt in the wild, while male Justice was found with shotgun pellets in a foot and wing, resulting in permanent injuries that would keep him from hunting successfully. They bonded as a pair in 1993, and have successfully raised 14 of their own offspring and several foster chicks for release to the wild from hacking towers in Tennessee.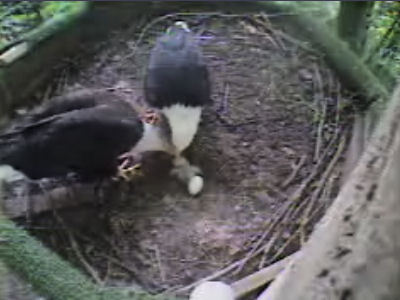 JudyB's photo - May 9, 2008
Based on past experience, look for eggs in late March, chicks in early May, and fledging in mid to late July. The chicks will be removed from the parents at about 5 weeks of age and transferred to a nearby artificial nest in a hack tower, where they will be released a few weeks later as part of the American Eagle Foundation's captive release program.
All images are the property of the cam from which they were taken and/or the person credited.
Information and pictures from the
American Eagle Foundation
are used with permission, all rights reserved.
Thank you for letting me use the images for this compilation.