Male K33 was hatched from an egg removed from the Seal Rocks Nest in 1992 and fostered back into the Seal Rocks Nest; female K17 was brought from a nest in California as a chick in 1984 and released on Catalina Island from the Bullrush Hacktower. Both of the eggs removed for incubation in 2007 hatched, and the pair successfully raised K75 and K76 (both males). K75 was the only 2007 eaglet still on Catalina Island as of December 5, 2007. In 2008, this pair was allowed to hatch their eggs naturally for the first time. It's not known how many eggs were laid, but two hatched, and males K88 and K89 fledged successfully. K88 was sighted on the mainland August 19 and was seen in southwest Oregon in November 2008; K-89 died around Sept 6 while trying to fly to the mainland
Catalina cams are streaming video using flash technology; there's also an option to watch still pictures updating at 5 second or 20 second intervals if traffic at the site is heavy. The cams are solar powered, so the picture may be less than optimal in bad weather. IWS planned to have a camera on this pair in 2008, but they moved their nest to a less accessable location; there have been some technical problems, but IWS hopes to have a cam on this nest for the first time in 2009.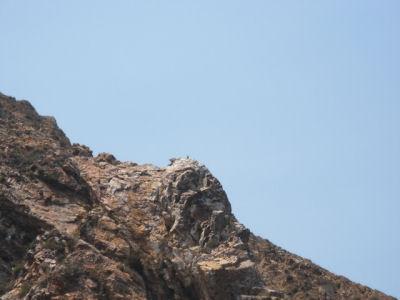 eaglegal's photo - August 8, 2007
fledgling K75 is the little bump next to the nest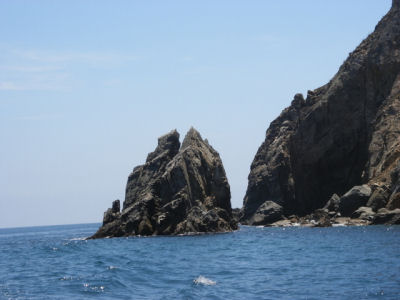 eaglegal's photo - August 1, 2007
This shows the twin rocks that give the area its name. The nest is on the mainland overlooking the rocks - not sure if it's the bump we see on the right or if it's up a little higher.
Based on past experience, look for eggs in late February and early March, chicks in early April, and fledging from mid-June to early July.