The male K81 was hatched at the San Francisco Zoo in 1998 and fostered into the West End Nest, while the female K82 hatched from an egg removed from the West End Nest in 1998 and fostered into the Pinnacle Rock Nest; like most of the Catalina adults, they are generally referred to by their wing tag numbers instead of a nickname. They became a breeding pair in 2003, and K82 has laid six eggs from 2004 through 2007, five of which have hatched. Because of problems with DDT pollution which can make the shell of eggs too thin to hatch naturally, eggs from this nest are removed a few days after they are laid, replaced with artificial eggs, and placed in an incubator; when they hatch, the chicks are returned to the nest. This pair raised two eaglets, male K78 ("Sol") and female K79 ("Luna"), from the two eggs they laid in 2007. They laid two eggs in 2008, both of which were removed for incubation; one died shortly before hatching, while the other hatched and was returned to the nest, becoming female K83 ("Star"); she fledged successfully. In 2009 the eggs will be left in the nest to see if they will hatch naturally.
Catalina cams are streaming video using flash technology; there's also an option to watch still pictures updating at 5 second or 20 second intervals if traffic at the site is heavy. The cams are solar powered, so the picture may be less than optimal in bad weather.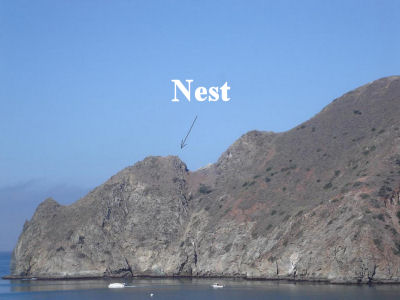 SoCal Lady's photo - June 24, 2007
©2007 SoCal Lady, used with permission, all rights reserved
Based on past experience, look for eggs in late February and early March, chicks in early April, and fledging from mid-June to early July.