This nest, established in 1991, was unusual in that it had three adults for a number of years. The females Dianna (K69 - wing tag on each wing) and Wray (no wing tags, but has a silver leg band) were brought from nests in British Columbia as chicks in 1986 and released together from the Sweetwater Hacktower on Catalina Island. Male K01 (sometimes called "Superman") was hatched at the San Francisco Zoo in 2000 and fostered into the Pinnacle Rock Nest; he replaced the previous male who disappeared before the 2006 nesting season at an age of 25. 18 chicks have fledged from this nest since 1991. Three of the five eggs removed for incubation in 2007 hatched, and the trio successfully raised female K72 ("Earth") and males K73 ("Wind") and K74 ("Fire"). Catalina cams are streaming video using flash technology; there's also an option to watch still pictures updating at 5 second or 20 second intervals if traffic at the site is heavy. The cams are solar powered, so the picture may be less than optimal in bad weather.
2008 Update: As of mid-March, Dianna was rarely seen around the nest and there is speculation she may be hoping to form a pair with an unattached male. According to Dr. Sharpe of IWS, Wray and the original male were a pair for a year before Dianna joined them, so she was the junior member of the trio. She has not been seen since then. Wray and K01 proceeded to lay two eggs which were removed for incubation; the younger died after about three weeks, and the older hatched only with Dr. Sharpe's help as it was poorly positioned in the shell; unbeknownst to IWS, Wray laid a third egg after they removed the first two, and in spite of the contamination which makes eggshells produced by this pair very thin, it hatched naturally. The incubated egg became K65 ("Miracle") and the naturally hatched egg became K67 ("Surprise"); both were female and both fledged successfully. Miracle was last seen on the mainland and Surprise was last seen on Santa Rosa, and both are presumed to be doing fine.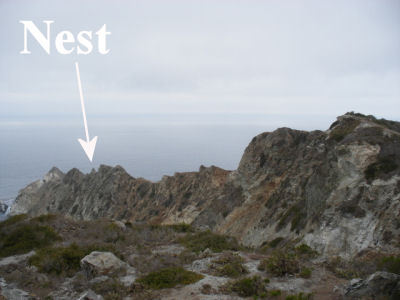 eaglegal's photo - July 6, 2006
Based on past experience, look for eggs in late February and early March, chicks in early April, and fledging from mid-June to early July.